Canada
In Ontario
Sisters of Holy Cross
Regional Office
1881 Lenester Avenue,
Ottawa
Ontario K2A 4G4
Message from Cecile Paquette – English Canadian Region
The 2009 Forum was an experience of life: life for the congregation, for the regions, and for each one of us. It was an explosion of energy, zeal and hope. here was no doubt that the Spirit hovered over the group, a source of wisdom, truth and inspiration. ... continued
AWARD
Sister Kathryn Cameron, c.s.c, Sister Jeannine Bissonnette, s.s.c.g., and Sister Georgette Thibault, s.s.c.g., of our Diocese of have been awarded the Holy Cross Pro-Ecclesia et Pontifice medal by Pope Benedict XVI.
See www.alexandria-cornwall.ca
NIAGARA DISTRICT SCHOOL BOARD HONOURS FOUNDING RELIGIOUS CONGREGATIONS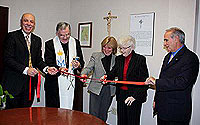 Early in January, John Crocco, the Director of Education for the school board contacted me. He was interested in "telling and retelling the story" of the development of Catholic Education in the Niagara peninsula. He wanted to honour the religious congregations who were pioneers in establishing what is now an enviable Catholic system. Each of the eight Congregations was to be recognized by having a Board Office room named in their honour. I was delighted to accept for the Sisters of Holy Cross. It also gave me the opportunity to meet many friends from the years we had been present in the area!... to continue...

80-year sisterhood veteran still has soft spot area
By Scott Carmichael
News Staff
From The Glengarry News, Wednesday October 29, 2008.
Glengarry continues to hold a special place in the heart of a former resident who first came here almost a century ago.
Sister Agnes Eccles, who arrived in Canada during the First World War after making the trip here with her mother as a six-year-old, returned to Alexandria last week to celebrate her 99th birthday.
Two Young Women Interested In Holy Cross
During the weekend of November 17-18 two young women interested in Holy Cross came to visit us in Montreal and Cornwall. Tina, from Sudbury, Ontario came to Montreal on Thursday to visit before heading down to Cornwall for the weekend. She stayed with the community on Beaudet Street, but had the chance to meet sisters at St. Joseph's Pavilion, the Generalate, 5800 Côte-des-Neiges and the Holy Cross Hermitage at Pierrefonds. She also had the chance to see one of our sisters, Hang Tran, in action working with the youth from the Basile Moreau Community at St. Joseph's Oratory. She then went down to Cornwall to meet Terry Ann Wilson and Barbara Hackett where the other young woman, Elisa, who had arrived from Waterton, U.S.A., Saturday afternoon. We spent Saturday evening and much of Sunday together sharing our hopes and dreams of religious life and how those of us in Holy Cross have seen them materialized in our lives. We had the chance of hearing both Tina and Elisa's stories and how they came to know of Holy Cross. Our weekend ended with a wonderful house blessing of Terry and Barbara's new house which was celebrated with the youth from Lifeteen, a group with which Terry works.
We all had a wonderful weekend today. It was a joy for me to accompany Tina and meet Elisa in this stage that I have just passed myself. We shared a lot, and I had a chance to say how I see this possible in Holy Cross. I have since corresponded with Tina and Elisa and they both said that they enjoyed their experience very much and wish to continue with Holy Cross with further visits in an effort to get to know us even better.
I was particularly touched by the fact that this gathering came about as a result of the collaboration of all four of our North American regions: the Eastern region, the English Canadian region, the Western Canadian region and the United States region.